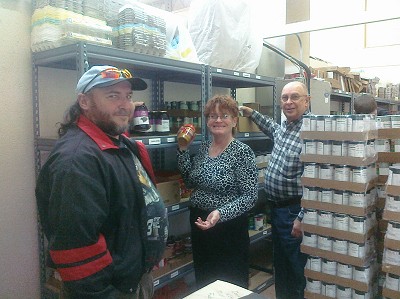 The Food Pantry is open to those in need of groceries. First time recipients must bring a photo ID and proof of Darke County residency, such as a utility bill or rent receipt. Please be prepared to list all household members and annual income. See Contact and Hours. Monthly we distribute commodities to 500 households.
As the churches came together for the Soup Kitchen in the Grace Resurrection Community Center, they also organized their individual efforts into one Food Pantry located in the new facility. The cooperative project allows us to serve more needy in Darke County more efficiently with the same level of Christian love and caring.
Our shelves and freezers are stocked through generous donations of food and/or funding, with which we purchase low-cost commodities from Shared Harvest. We have also received meat from Farmers and Hunters Feeding the Hungry (FHFH). Food is distributed by our member churches.